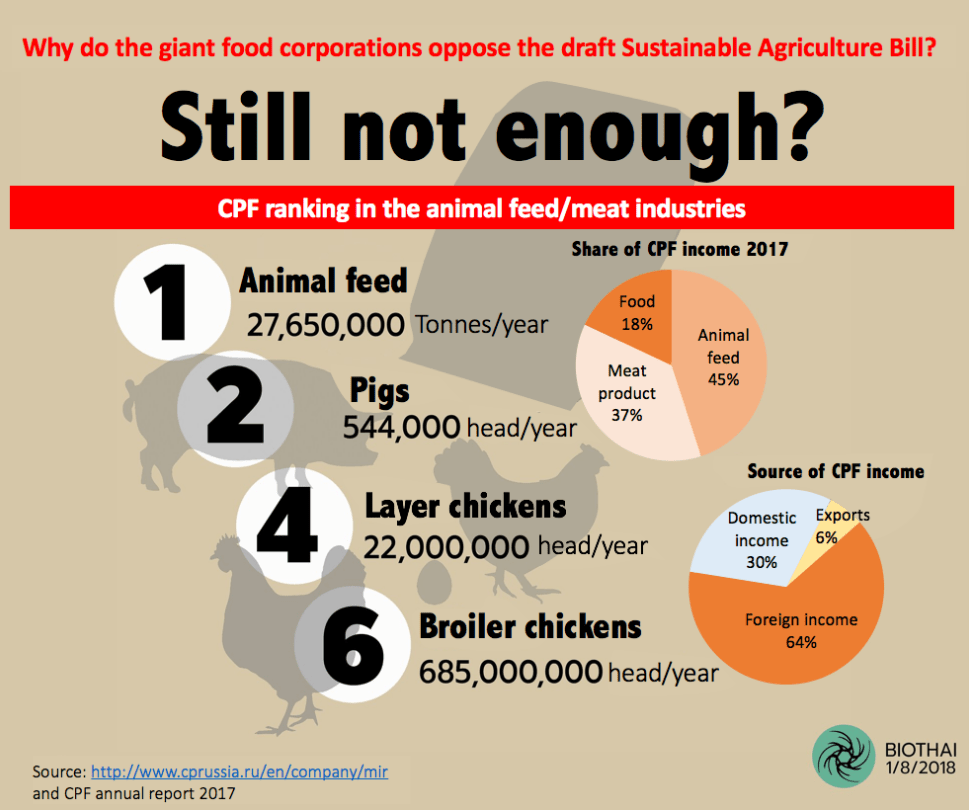 CPF is a giant of the food and animal feed industries. It is the world's number one producer of animal feed, surpassing New Hope and Wen's Food Group from China, Cargill, Land O'Lakes and Tyson foods from the US, as well as the Brazil Foods company from Brazil.
It is also the world's second biggest producer of pork, fourth largest producer of chicken eggs, and is sixth in the world in the production of broiler chickens. Currently, 64% of CPF's income from foreign markets. In this way, CPF has become a transnational corporation with headquarters in Thailand, it is no longer a local company.
It's not only in Thailand that CPF dominates the markets – in Vietnam and Indonesia also, CP controls more than 35% of the animal feed and broiler chicken markets. Being the world's number one producer of animal feed, the company requires a huge amount of land on which to grow feed crops to meet its demand for raw materials. It is estimated that for every tonne of broiler chicken feed produced, CPF needs around 1 rai (0.16 ha) of land to grow maize. In Thailand alone, the demand for animal feed is around 8.25 million tonnes per year, while maize production reaches only 5 million tonnes. The animal feed industry would therefore need more land dedicated to cultivating maize in order to meet this demand.
The draft Sustainable Agriculture Bill is aimed at the increasing the area dedicated to sustainable agriculture in different forms, such as integrated cropping, organic agriculture, agroforestry, and the new theory agriculture, to reach a target of 5 million rai (800,000 ha) in the next three years. This is one of the major reasons behind the joining of opposition forces amongst the animal feed, chemical pesticides, and the seed industries. The reasons cited in their letter of opposition are merely a cover story.
Increasing the area for growing maize, would not only give the animal feed industry access to a cheap source of raw materials, it would benefit the traders of chemical pesticides and fertilisers, and maize seeds at the same time. The Charoen Pokphand group profits from each of these, in that they have the largest share in the markets for maize seeds, agri-chemical fertilisers. If successful, the attempt to bring down the Sustainable Agriculture Bill would open the chance for these groups to expand their territory even further. Meanwhile, on the losing side will be the ordinary farmers and consumers, who need a system of agriculture and food that is safe and environmentally friendly.
---