The Japanese government too has begun to investigate more strictly from last July following an order from the Japanese Ministry of Public Health, Labour and Welfare to increase testing to taking samples from 30% of its total imports. They also requested that the Thai Ministry of Agriculture and Cooperatives investigate to find the source of contamination of Thai papaya products. Following an investigation, it was found that dried papaya products had been made from GM papayas that were resistant to the papaya ringspot virus. This did not go through safety testing in contravention of Japan's Food Sanitation Act from 9 July 2013 onwards.
Witoon Lianchamroon, Director of BioThai said that the EU's Rapid Alert System for Food and Feed tested samples of raw papaya and dried papaya products imported from Thailand and found that 24 samples were contaminated with GMOs in the first nine months of 2013 alone. From earlier statistics, it can be seen that the EU found the first instance of GM contamination of Thai papayas back in 2006, when 1 sample was found to be contaminated, with 3 samples in 2009, rising to 11 samples in 2012, with a significant increase in 2013 as noted above.
The Director of BioThai Foundation said that high levels of GM contamination found in papaya products from Thailand at this time may prompt the EU and Japan to scale up their testing on papayas from Thailand to samples from 50% of imports. And if Thailand still cannot manage the problem, the EU may ultimately prohibit the import of Thai papayas altogether. This problem will have an impact on the farmers growing papayas, as well as private sector operators and exporters from Thailand which will have to incur increased laboratory costs, to make sure their products are not contaminated with GMOs prior to export. I believe that the EU will expand its testing to products that use papaya as an ingredient, for example, sauces and fruit salads which have papaya in them too."
"This problem is something that all sectors have to work together to resolve, including: farmers and growers which will have to investigate whether the papaya seedstock they use comes from a source that is free from genetic contamination; private sector operators which stockpile produce for processing and exporting; and in particular the Ministry of Agriculture and Cooperatives will have to make much more serious efforts to manage the problem of genetic contamination."
The rejection and stricter testing of papayas may lead Thailand to lose its export markets to the European Union and many other countries to its neighbouring countries such as Malaysia and Philippines. According to FAO statistics in 2011, the countries with the largest papaya exports are Mexico, which exports 104,797 tonnes, followed by Brazil with 28,823 tonnes. In the ASEAN countries, Malaysia exports the most at 22,207 tonnes, Philippines at 2,945 tonnes, while Thailand exports 995 tonnes.
The first instance of GM contamination of Thai papayas has been traced to 2004, when GM papaya was being grown in crop field research stations of the Department of Agriculture in Khon Kaen province. A report from the Biothai Foundation warned that in addition to papaya, there is also a problem of contamination from GM corn which has still not been seriously addressed. Furthermore there have been attempts from certain parties to introduce Monsanto's genetically-modified NK603 to be grown in open field trials. This could become a massive problem in the near future.
Papaya export ranking 2011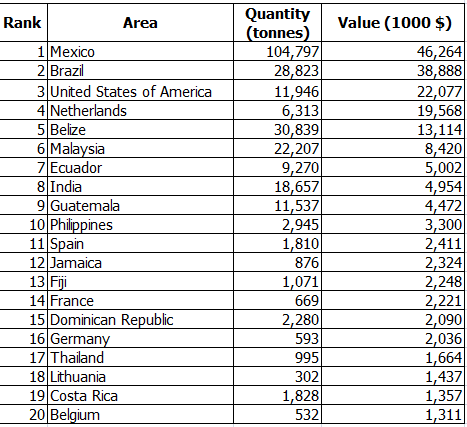 EU Report on tests finding vegetable crops found to have GM contamination.